Upcoming Events
Diabla 66 will be vending at these awesome events in 2023, come out and shop in person!
Visit our traveling bag boutique at our next event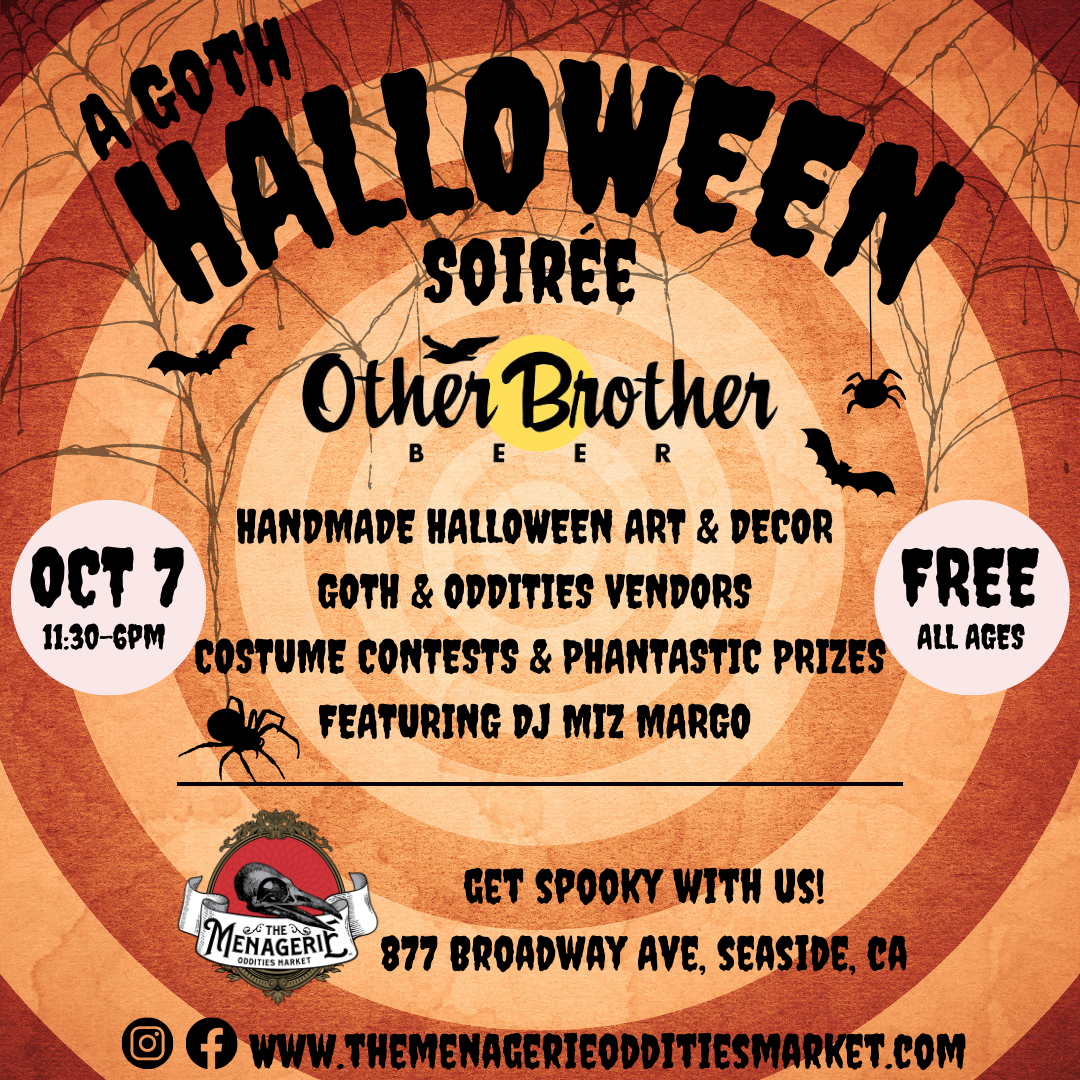 October 7, 2023
THE MENAGERIE ODDITIES & CURIOSITIES MARKET: A Halloween Peculiar Pop-Up
11:30 AM - 6 PM
Hosted at Other Brother Beer
877 Broadway Ave, Seaside, CA 93955
"Peculiar Popups are an intro to our shows with 10-20 of the artists in our current rotation. It's a chance to meet some of our artists and see what all the buzz is about! We partner with other small businesses to create brand awareness, create exposure for our artists, and share marketing resources. " - The Menagerie
MORE INFO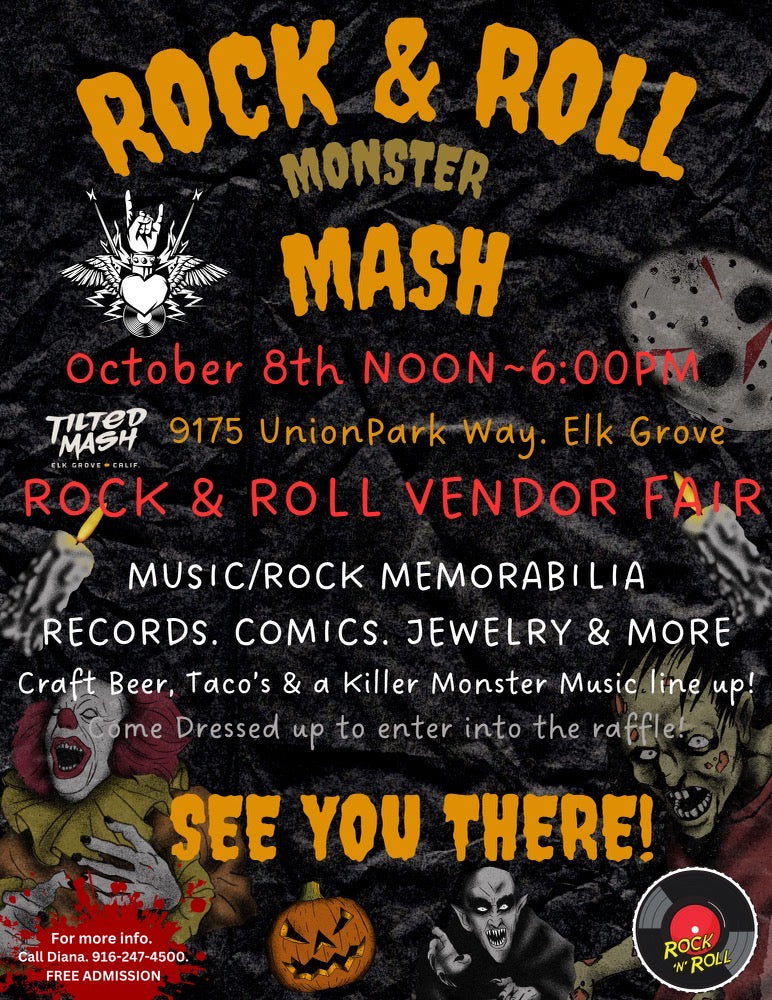 October 8, 2023
ROCK N' ROLL Monster Mash
12 - 6 PM
Hosted at Tilted Mash Brewing
9175 Union Park Way, Elk Grove, CA 95624
"Rock & Roll Vendor Fair!"
MORE INFO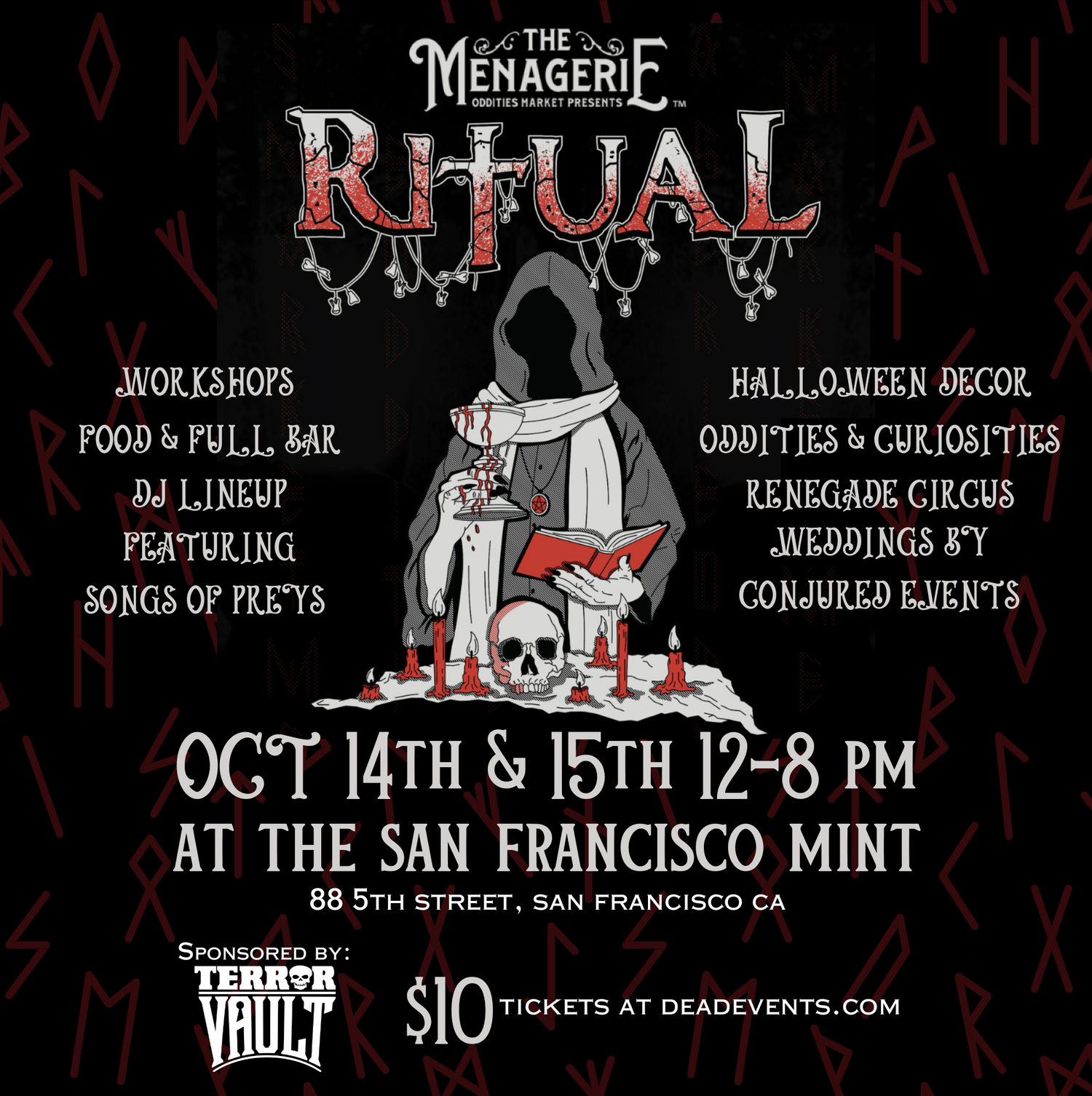 October 14 + 15, 2023
THE MENAGERIE ODDITIES MARKET: RITUAL - A HALLOWEEN MARKET & ODDITIES SHOW
12 - 8 PM
Hosted at The San Francisco Mint
88 5th St, San Francisco, CA 94103
The Menagerie Oddities Market presents: RITUAL a Halloween Art Market and Oddities Show at the historic Old San Francisco Mint.
Witness the Strange, the Unusual, and the Creepy with frightfully-spooky wares, curious creatures, provocative circus entertainment, fortune telling, tricks or treats, and special ceremonies to make the ultimate Sacrifice: pledge your undying love this Hallowday Season during Ritual, presented by the Menagerie Oddities Market.
This Ain't Yer Grannies Craft Scare!™
Our event features:
45 carefully selected artists selling handmade and found wares: bugs, bones, taxidermy, dark art, macabre home decor, unique fine jewelry, handcrafted Halloween decorations, and more.
DJ's, music, and entertainment provided by the Renegade Circus.
Food Trucks & the infamous Fang Bang Bar.
Doll Head Lamp Workshops - learn how to create your own doll head lamp. *Disclaimer: probably haunted.
SPOOKY WEDDINGS!!
TICKETS: General Admission $10, VIP PASS w/merch & perks $75
TICKETS FOR RITUAL ARE SOLD AT deadevents.com
Shop, eat, drink, be merry, take a class, shop some more, watch the performances, buy a ticket for Terror Vault!" - The Menagerie
This Menagerie event is sponsored by Terror Vault. Visit http://terrorvault.com for all things haunted. Terror Vault tickets are sold separately at terrorvault.com (no re-entries once you leave).
MORE INFO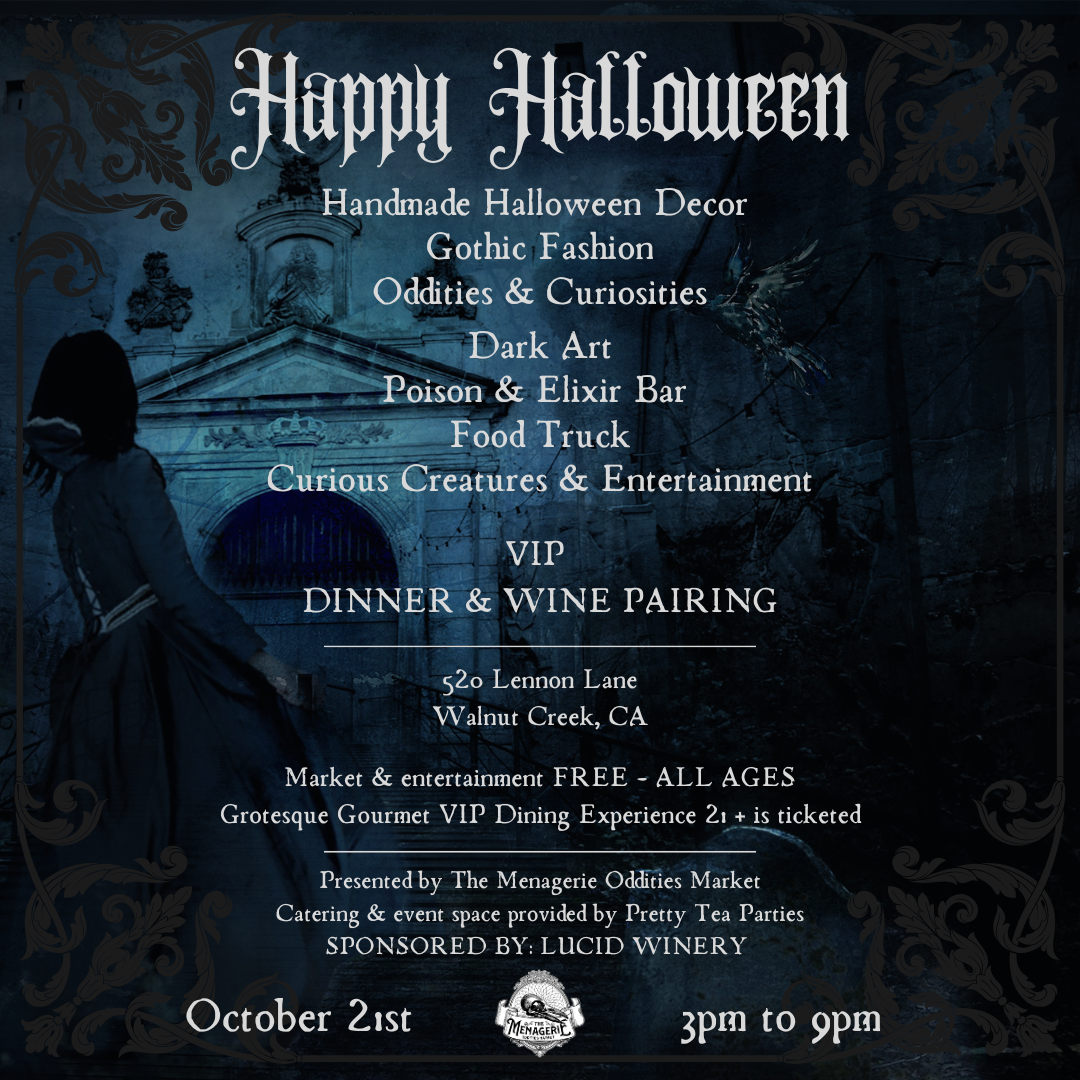 October 21, 2023
THE MENAGERIE ODDITIES MARKET: Summoning of the Spirits Pop-Up
3 - 9 PM
Hosted at Pretty Tea Parties
520 Lennon Lane, Walnut Creek, CA 94598
"We're summoning 25 of our finest artists to showcase during our Spooktacular Halloween Market & Frightful Dining Experience.
A free outdoor market will be set in a "haunted cemetery" with a DJ, full poison & elixir bar, food truck, and performers. Small, intimate, and immersive dinner and cocktail packages will be offered as VIP experiences indoors, inside a local event business in Walnut Creek." - The Menagerie
MORE INFO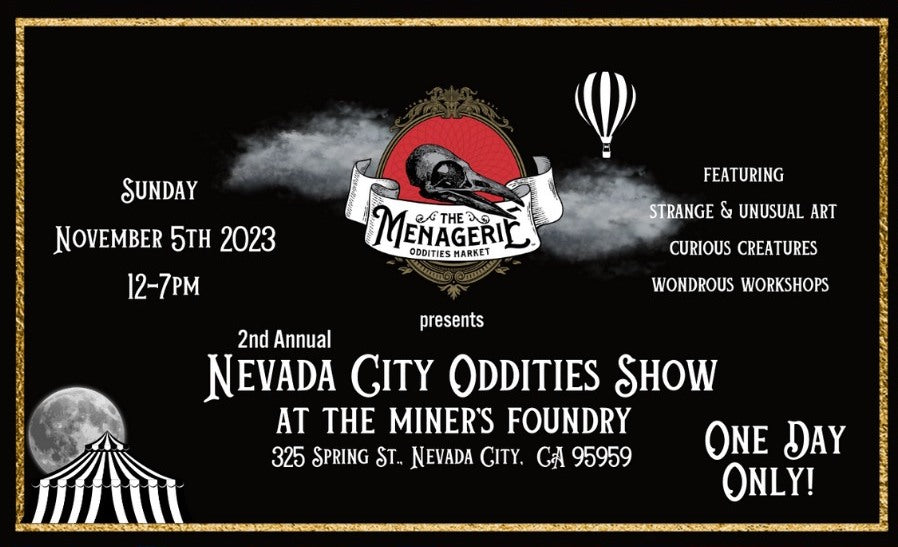 November 5, 2023
THE MENAGERIE ODDITIES MARKET: Nevada City Oddities Show
12 - 7 PM
Hosted at Miner's Foundry Cultural Center
325 Spring St, Nevada City, CA 95959
"Nestled in the Sierra Foothills, surrounded by legends and lore, is the charming Victorian town of Nevada City, the perfect backdrop for a one-of-a-kind art experience.
We invite you to explore the mysteries of our Menagerie on Sunday, November 5th. Shop a curated art market of STRANGE home decor, bugs, bones, taxidermy, dark art, UNIQUE fine jewelry, medical specimens, antiques, natural science and BIZARRE collectibles, tarot reading, henna tattoos, and all kinds of WEIRD delights!
This years offerings include a new lineup of purveyors selling extraordinary wares, entertainers, and workshops.
The Renegade Circus will be in town along with Dr. R. Snick who will present his exhibit of poisons & cures and lectures all included in the price of admission.
Tickets $10 / (5 & UNDER FREE) +re-entry
ART, EXHIBITS, LIVE PERFORMERS, MUSIC, FULL BAR
**WORKSHOPS COMING SOON: Announcements on Taxidermy and Pinning offerings TBA ~ stay tuned!"
- The Menagerie
MORE INFO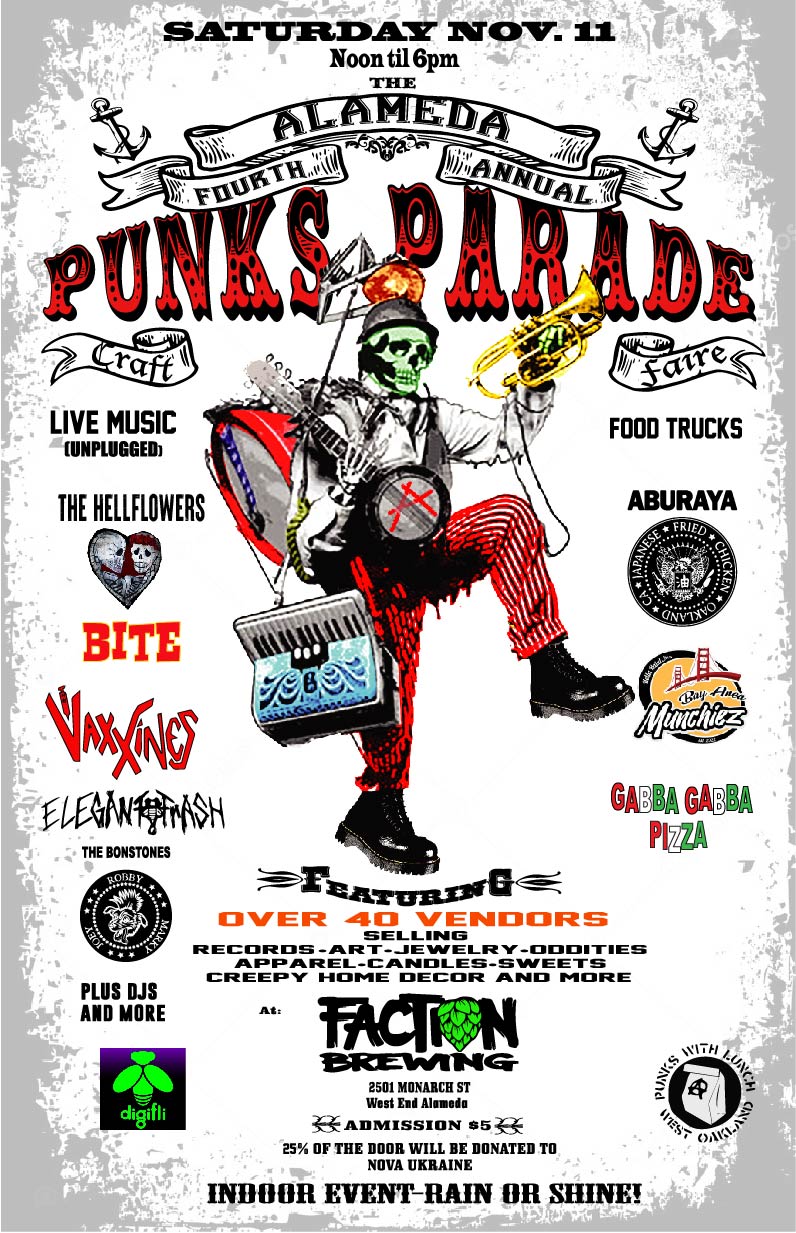 November 11, 2023
4th ANNUAL PUNKS PARADE CRAFT FAIRE
12 - 6 PM
Hosted at Faction Brewing
2501 Monarch St Alameda, CA 94501
"Join us for the 4th annual Punks Parade Craft Faire @ Faction Brewery.
With stunning views and dozens of brews..
What to expect:
40+ unique artists and vendors selling everything from custom jewelry, clothing, art, purses, candles, bath & beauty products, records, oddities, desserts and creepy home decor.
Thousands of items you will not find in any stores..
All this while sipping on some of Faction's tasty craft beers..
A selection of nosh provided by Aburaya, Bay Area Munchiez and Gabba Gabba Pizza
This year we've added 5 bands to the party. Bite, Hellflowers, Vaxxines, Elegant Trash, and Bonstones will be playing toned down sets, loud enough to enjoy, quiet enough to shop our vendors"
MORE INFO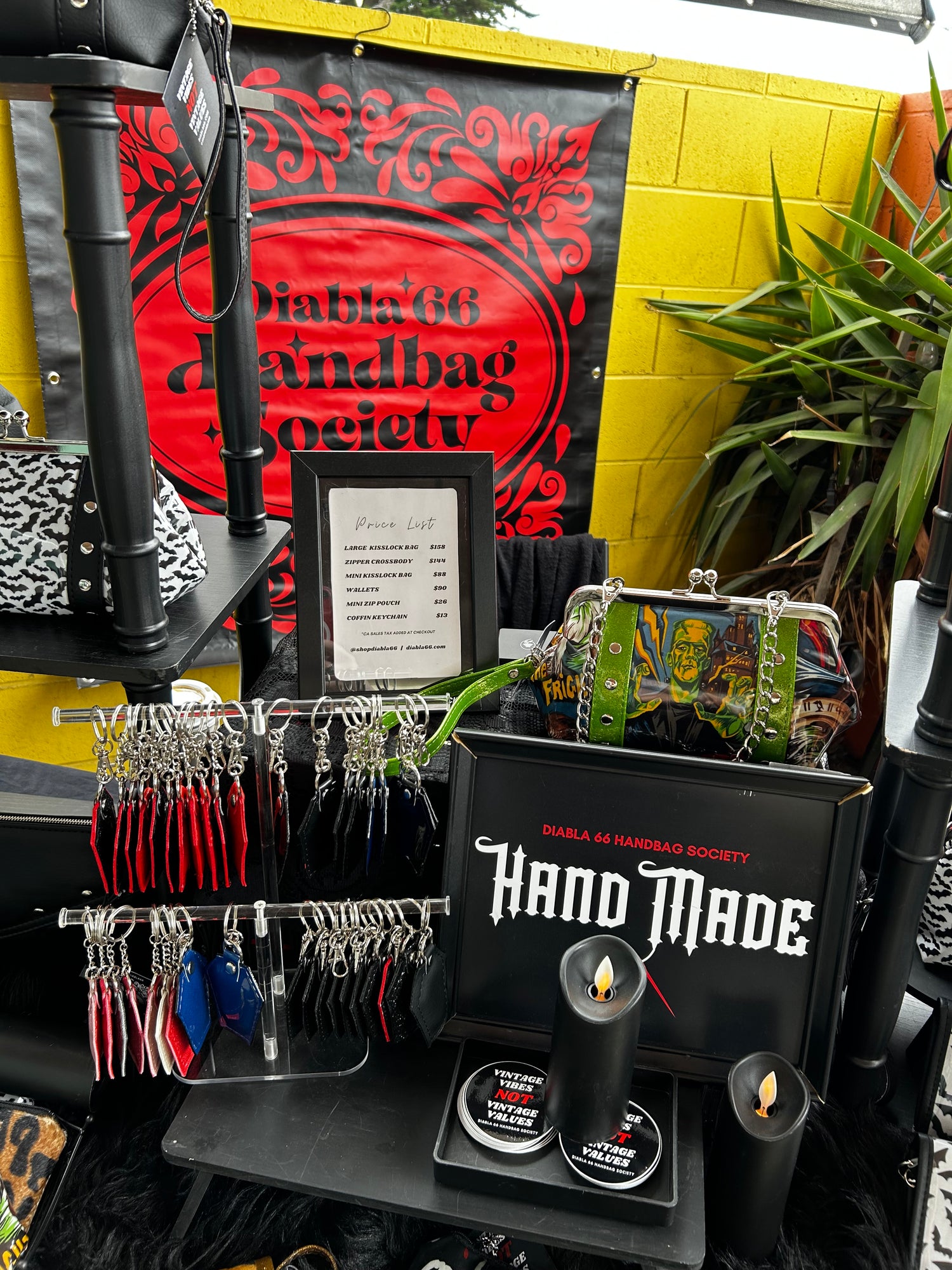 Plus...
Save These Dates:
November 18 | Santa Rosa, CA | THE MENAGERIE ODDITIES MARKET: Dead Turkey Day Pop-Up @ Shady Oak Barrel House
.
December 17 | Oakland, CA | THE MENAGERIE ODDITIES MARKET: Holiday Pop-Up @ Ghost Town Brewing
.
December | TBA | Bay Area, CA | THE MENAGERIE ODDITIES MARKET: Annual Holiday Market